Seasun Biomaterials announced on the 4th that'U-TOP SARS-CoV-2 & Flu A/B', which can diagnose COVID 19 and flu virus at once, has received export permission from the Ministry of Food and Drug Safety.
Currently,'U-TOP SARS-CoV-2 & Flu A/B' has completed European CE-IVD certification and is undergoing document review for emergency use approval by the US Food and Drug Administration (FDA).
This product is a real-time polymerase chain reaction method for the'SARS-CoV-2' virus gene for the diagnosis of COVID-19 and the'influenza A'and'influenza B'virus genes that cause flu from samples taken from human nasal and oral cavity. It is a molecular diagnostic product that can be confirmed by (Real-time PCR).
The government recently introduced a molecular diagnostic test that allows simultaneous testing of COVID-19 flu until November, and applied health insurance, and is concerned about congestion in the medical system due to discrimination between Corona 19 and flu, which have similar symptoms. 'Preparation plan for the simultaneous influenza pandemic' has been announced.
COVID 19 and flu, a respiratory infectious disease, are both difficult to distinguish due to similar symptoms such as high fever, cough, and sore throat. If a flu patient is mistaken for COVID 19 or a COVID 19 patient is mistaken for a flu patient, it is feared that the mortality rate will increase sharply along with the large-scale spread of infectious diseases. In preparation for this, companies around the world are developing various products for accurate identification and diagnosis of Corona 19 and the flu.
On the 8th, SightBio received approval from the Ministry of Food and Drug Safety for the'U-TOP COVID-19 Detection Kit Plus' product that enables precise diagnosis of COVID 19.
Unlike competitors that use two genetic judgment indicators so far, this product has upgraded diagnostic reliability with differentiated precision and high accuracy by using four genetic judgment indicators, the largest in Korea.
SeasunBio previously received high-ranking grades in the sensitivity evaluation for products approved for emergency use of COVID 19 by the US FDA in September, and was recognized for its global molecular diagnostic technology.
SeasunBio's COVID-19 molecular diagnostic products and the'OneSTOP platform', which enables from sample collection to result analysis, are currently being used for COVID-19 diagnosis in countries around the world, including the US, Europe, and Asia.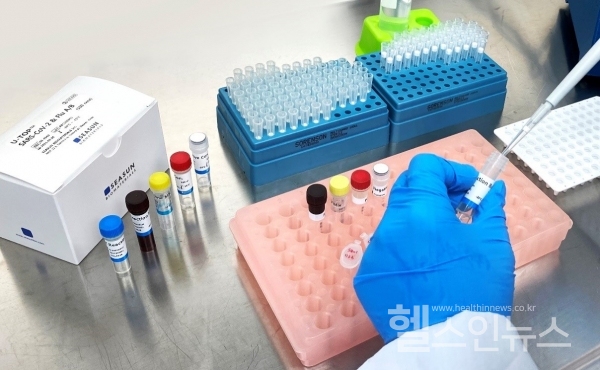 관련전문:
http://www.healthinnews.co.kr/news/articleView.html?idxno=15365
https://www.etnews.com/20201104000059
https://www.ekn.kr/web/view.php?key=20201104010000905
https://www.fnnews.com/news/202011040956523880
http://www.mdtoday.co.kr/mdtoday/index.html?no=404778